Welcome to the Empowerment Process®
Are You Willing to Change…
If you had the power to change your life, would you do it? Would you like to own your power so that you make progressive, life-supporting decisions for yourself? Do you want to recognize and authentically express your gifts?

Clarify Your Intentions…
The Empowerment Process can help you gain the inner knowingness and support you need to clarify your intentions, your goals, and your desires. You will create and integrate the vision you need to create powerful, positive energy to go forward with your career, relationships, health concerns, or any challenge you face.

Transform Old Patterns…
Each challenge provides an opportunity for growth. When a problem surfaces, you can choose to avoid it or recognize it and gain the lesson it offers. The Empowerment Process gives you a way to release problems from the past by bringing in new, positive energy. You can change old habits and dis-empowering beliefs that no longer serve you, remove worry and anxiety, and free your awareness to live here and now.
The Empowerment Process is designed to activate and facilitate your transformation, allowing you to explore your unique abilities, gifts and resources to follow your passion. The effects are permanent changes in your entire energy system supporting positive responses in your life.

And Commit to the Journey?
Embarking on this journey means having the courage and inspiration to move forward. Be your own best friend and commit to your personal ability to transform.

The EP Mission:
To help people move into the flow of transformation for self-healing, clearing out obstacles in the way in order to experience greater fullness in life.
The EP Book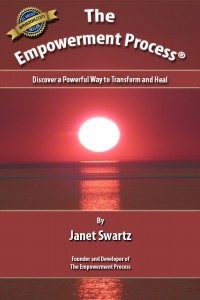 Janet's book tells her story of how the Empowerment Process came into being.
Each chapter is a nugget of wisdom and inspiration, sharing the infinite possibilities that self-transformation and healing offers.
"I can't recommend her services highly enough. The book is a quick read and will prepare you for your life changing session with the author." Douglas A.G.
Download Kindle Edition for Only $0.99

Take the Awareness Quotient survey on-line and Janet will give you a FREE Intuitive Reading by phone on a subject of your choice.
Take the Survey
EP Videos
How can the Empowerment Process help you…
Tell me more about the EP.
EP Sessions
During individual sessions, Janet will work with you directly, in-person or on the phone, to help facilitate the energetic transformation necessary to address your concerns and pave the way for your next step of growth.

EP Podcasts
EP Podcasts are now available on iTunes. Subscribe and get the latest video and audio from the Empowerment Process. Over 20 video and audio podcasts are now available at no charge. Podcasts are updated frequently.

EP Workshops
Following Your Intuitive Guidance for Energetic Transformation, the first of the Empowerment Process® courses,  presents two powerful ways to transform any issue, concern or confusion that comes up in your life.

Testimonials
What Clients Say
After our session, I was able to talk honestly to my fiancé, and let go of my illusory perceptions. It was as if a dark cloud and heavy weight was lifted from every cell in my body.  Now I am relatively fearless and outspoken and able to confront him and others in a simple, peaceful way.
What Workshop Participants Say
The Empowerment Process and Chakra Balancing workshops have been so astounding for me. In a few short weeks, my life has become unrecognizable compared to what it was before.
Anyone receiving 5% of the good I have received would have enough incentive to justify taking the courses.  Janet's receptivity, clarity, and her intuition continually impress me. This is not a run-of-the-mill, self-improvement course. The few days of fun classes did for me what a lifetime of therapy, medication and anti- anxiety tricks couldn't do. I now have the ability to discover my underlying issues and heal them. I feel like a new person, the person I was meant to be.
View More Testimonials and Video
About Janet
Janet Swartz is the developer, facilitator, and teacher of the Empowerment Process®, a simple and effective way for anyone to permanently remove obstacles from the inside and see the results on the outside.
She works with individual clients facilitating the Empowerment Process and Intuitive Guidance consultations , and teaches in group settings with individuals who are ready to make energetic shifts, grow to higher levels of awareness and neutral vision, and transform dis-empowering energy into opportunities for positive growth and well-being.